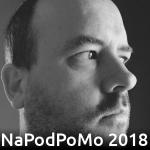 In today's episode: A very late recording, a very long recording, and a question about audio on physical media.
Apologies for the late episode today. Best laid plans: after housework, cooking Sunday dinner, playing games with the family, going to church, watching Doctor Who; this is the first chance I've had to record!
Had a wonderful conversation last night with Jennifer Navarrete, the creator of NaPodPoMo. It was supposed to be a 20 minute interview, but turned out to be an hour-long natural conversation! Next step: to edit this down to max 20 minutes for a future NaPodPoMo episode, but I'll likely publish the whole conversation as an episode in the primary feed.
Question from Jonathan:
"With the apparent resurgence of vinyl records again do you think music being produced on physical media is still important?"
Thanks to Rich who dropped me an email following on from yesterday's episode.
Please join me tomorrow, if you can.
Find more details here: