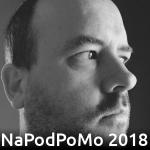 In today's episode: I talk about where I got the name 'thelovebug'.
Question from Jessica:
"Why did you choose the name 'thelovebug' and why did you call your podcast 'The Bugcast'?"
LiveJournal: Getting To Know You #3: Who Is The Love Bug…?
Wikipedia: Citizens band radio
Wikipedia: Transmitter hunting
Please join me tomorrow, if you can.
Find more details here: