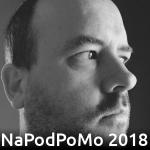 In today's episode: I talk about module files and technical failures – both those created by me and others not.
Discovered a bunch of module files that I had started collecting about 25 years ago. I'd also created some of my own – some good, some dire!
Question from Al:
"What is your worst tech fail?"
Caused by me: rebooted the primary database box in error
Not caused by me: disk array failure after routine maintenance
I'm planning to record an interview tonight with the creator of NaPodPoMo, so I may publish that tomorrow if time allows.
Please support my work's 24 Pool Marathon starting on Thursday 29th November!
Fundraising page
Thanks to Peter who interacted with me over the last 24 hours.
Please join me tomorrow, if you can.
Find more details here: