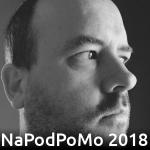 In today's episode: Musical errors from respected musicians, Brexit resignations, and more Nerdy Pleasures.
YouTube: John Lewis Christmas Advert 2018 – fundamental musical error
BBC News: Theresa May defends Brexit deal – 8 resignations, possibly 1 more
Twine Radio: Jonathan's Day 14 episode – follow on from Day 14 – Nerdy Pleasures
Please support my work's 24 Pool Marathon starting on Thursday 29th November!
Fundraising page
Thanks to Chris, Stephy, Jonathan… all of whom have interacted with me over the last 24 hours.
Please come and join us tonight for the live recording of The Bugcast at 21:30 UK time (GMT) over at thebugcast.org/live!
Please join me tomorrow, if you can.
Find more details here: