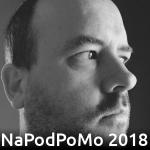 In today's episode: I mention a couple of other podcasts, and then answer a question on the first and last music I bought.
Recorded another episode of Duffercast last night.
A new episode of TuxJam – TuxJam 69 – Tuxy McJamFace – was released last night too.
Question from Jonathan:
"What was the last CD music album you bought and how long ago was it?"
Last CD bought
Ginny Owens – Something More (2002)
First CD bought (with my own money)
Now 23
First CD owned (but not bought)
Public Image Ltd – Happy?
First single bought (with my own money)
Haircut 100 – Nobody's Fool (1982)
and on the B-side
Haircut 100 – October Is Orange (Day 1 & 2)
Please support my work's 24 Pool Marathon starting on Thursday 29th November!
Fundraising page
Thanks to Al, Craig, Jonathan, Chris… all of whom have interacted with me over the last 24 hours.
Please join me tomorrow, if you can.
Find more details here: