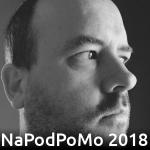 In today's episode: I highlight a couple of coincidences, and then reveal some of my most nerdy guilty pleasures.
Guilty Pleasures – part 2
Jonathan's Day 12 episode – the prompt for today's episode
Underground History – unused London Underground sites
Subterranea Britannica – hidden underground sites
Pathetic Motorways – current and past "motorways"
MB21 UK Transmitter Gallery – history and gallery
Andrew Wiseman's Television Room – TV ident gallery
Thank you to Jonathan, Rich, Jessica… all of whom have interacted with me over the last 24 hours.
Please join me tomorrow, if you can.
Find more details here: