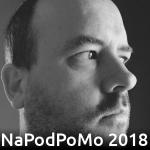 In today's episode: I mark the passing of a Marvellous legend, and talk about my favourite places.
Wikipedia: Stan Lee (1922-2018)
Instagram: Caroline's tribute to Stan Lee
Question from Jonathan: (taken from his Day 2 episode)
"What is your favourite place?"
Wikipedia: Burbage Brook
Wikipedia: Longshaw Estate
Wikipedia: Burbage Brook
Thank you to Al, John, Mikael, Jonathan… all of whom have interacted with me over the last 24 hours.
Please join me tomorrow, if you can.
Find more details here: