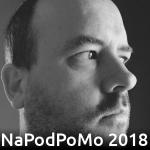 In today's episode: I answer a question about live events, and the episode gets crashed by two of my children.
Question from Jonathan:
"What is the best live event you've attended, and what made it special?"
Theatre trip to see Sherlock Holmes in the late '80s
Linkin Park, live in Nottingham in 2008
OggCamp in 2018
Thanks to Al, Stephy, John, Mikael, Jonathan, Peter… all of whom have interacted with me over the last 48 hours.
Please join me tomorrow, if you can.
Find more details here: