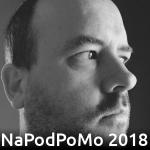 In today's episode: I talk – for ages – about social networking, and ask can you be a member of too many social networks.
Social Networks
Wikipedia: List of social networking websites
(includes centralised and distributed)
Distributed Social Networks
Wikipedia: Comparison of software and protocols for distributed social networking
Instant Messengers
I talk briefly about IM services also.
Find out which social networks and instant messenger services I use, over at: thelovebug.org/contact
Thanks to Jono, Codger, Jonathan, Chris, Rich, and Al… all of whom have interacted with me over the last 24 hours.
Please join me tomorrow, if you can.
Find more details here: