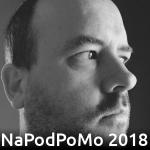 In today's episode: I reveal one of my Guilty Pleasures, the world's longest-running radio drama.
Guilty Pleasure
The Archers
Thanks to Craig who liked Day 7's Facebook post about 1 minute after I'd finished recording Day 8! Plus, thanks also to Stephy, Jonathan, Codger, Chris, Al, and Matt… all of whom have interacted with me over the last 24 hours.
Please come and join us tonight for the live recording of The Bugcast at 21:30 UK time (GMT!) over at thebugcast.org/live!
In the next episode, I'll be talking about social media, and how many social networks you truly need to be a part of.
Please join me tomorrow, if you can.
Find more details here: