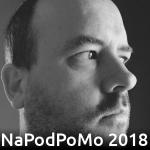 In today's episode: fart lighting, a question on Yorkshire independence, and a new episode from an "old" podcast.
Today's question, from Jonathan:
"If Yorkshire is as big as Scotland, should it be independent?"
Is Doncaster part of Scotland?
Duffercast 14 – Sir William of Oggcamp
Yes, I am a churchgoer… any questions?
Thanks to Jonathan for the shout-out on his Day 2 episode, and I'll be adding his "favourite place" question to my list! Thanks also to MrAlC, NorCalGeekDad, and mcnalu for responding in some way to yesterday's episode.
Please join me tomorrow, if you can.
Find more details here: