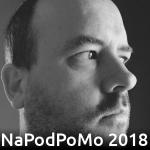 In today's episode: the boiler is bleedin' demised, I dodge a question about how I started podcasting, and I mention another NaPodPoMo from @NorCalGeekDad.
Today's question, from Rich:
"You obviously enjoy podcasting. What got you started, and why did you start?"
Check out the episode I recorded for HPR: hpr2503 :: My journey into podcasting,
which gives a full background in how I started podcasting, and my evolution.
A new NaPodPoMo I'm listening to is from @NorCalGeekDad over at norcalgeekdad.com/nationalpodcastpostmonth.
Thank you to Martin, Jamie, Jonathan, Chris, and Al – for commenting, liking, replying, emailing and however else interacting over the last day – particularly for the various comments relating to the well-being of my boiler… and also to James and Chris, who liked or replied to Day 1's episode on Facebook, which I missed!
Please join me tomorrow, if you can.
Find more details here: