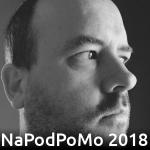 In today's episode: a layperson's explanation of what Creative Commons is, and how it affects me.
(bit of an audio glitch at the end of this episode, I'll look into that, sorry!)
Today's question, from Jonathan:
"How has Creative Commons shaped your output as a creator?"
Thank you to Gavin and Jonathan (and @FartBot_ on Twitter!) for interacting with me on yesterday's show.
Please join me tomorrow, if you can.
Find more details here: