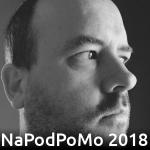 In today's episode: I wait for a boiler service, answer a question about the cold, and make a mistake.
Today's question, from Jonathan:
"What's the coldest you've ever been (apart from recording Day 1's audio)?"
Thank you to Jennifer, Jonathan, Al, Leonie, Caroline, Rich – for commenting, liking, replying, emailing and however else interacting over the last day.
Please come and join us tonight for the live recording of The Bugcast at 21:30 UK time (GMT!) over at thebugcast.org/live!
Join me tomorrow, if you can.
Find more details here: