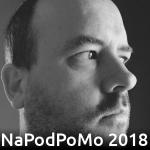 In today's episode: I slurp my coffee, rue the fact that I didn't reprogram the thermostat, and briefly review the film Bohemian Rhapsody.
I also left it too late to kick off the outro music, so sorry about that!
Thank you to Jonathan and Rich for submitting questions, I will start on the first of those tomorrow. Please join me, if you can.
Find more details here: