Day 3 was a day of rest. It's surprising how stressful a long haul flight actually is, particularly with a far-from-straightforward transfer between two flights. As our lovely trip organisers were clearly in tune with our needs, they arranged for the extension of our breakfast until 1100. I'm sure there were a good number of people who took advantage of that to gain a very welcome additional 30 minutes in bed.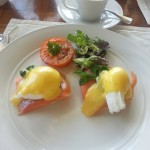 We surfaced around 0830, and were at breakfast in the Coast Restaurant before 0900. Having already experienced the concept of a Malaysian breakfast on the flight (see Day 2), we certainly went with an open mind. We sat down and ordered tea and coffee, and were handed the hot food menu. For the life of me, at the time of writing I can't remember much of what what is on the menu, I'll try and get a photo for Monday's post. Caroline had the Salmon Eggs Benedict, and I had the Eggs Benedict. My dish came with beef bacon, instead of the expected pork bacon, but as Malaysia has a very strong Islamic following, it's not surprising that I've not seen any pork products at any of the restaurants we've been to so far. They do – however – have very good pork substitutes, like chicken sausages and beef bacon… both of which were available at breakfast this morning.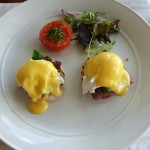 Pete, one of our corporate hosts for this trip (also one of our MDs), suggested that I try the fish curry as part of my breakfast. Say what now? The buffet section of the breakfast layout – where your continental options would be if you were in a restaurant in the UK – had some incredible dishes available: chicken soup, curried vegetables, exotic fruits, many different breads and muffins, pancakes and waffles, sushi, curried chicken, to name just a few.
Going back to the Eggs Benedict though… just wow. The poached eggs were perfectly cooked, and the whole dish was well-prepared. That, combined with two cups of coffee, some fruit juice, and some samplings of the more… uh… unusual items on the buffet, really made for a good start of the day and recovery from the previous two days of travelling.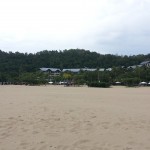 After breakfast, Caroline and I went on the obligatory exploration of the resort, checking out the pools, restaurants, and other facilities, before finding the place that we were due to have lunch at.
A brief segue to mention our room. Very early this morning (around 0200) there was a large amount of rainfall. We heard a dripping noise after a while but, having spent some time looking for where the dripping was, we were satisfied that it was on the other side of the wall, and thought nothing more of it. However, when we got up for breakfast this morning, we noticed that the carpet on my side of the bed was damp. Knowing that I didn't have a problem with incontinence (not yet, anyway), and there was no sign of any water entry from the ceiling, we figured that the dripping noise – which was still happening, even though it hadn't rained for hours – was the cause of the damp. So, we reported it to Guest Services before we went to lunch.
Lunch was for our entire party at the Tepi Laut Beach Restaurant, for a buffet-style hot lunch. The food was excellent. A brief speech by Steve, the other of our corporate hosts, was well-received, and included recognition of our partners/+1s who had accompanied us on this trip and the role that they have played in supporting us in the award that we have won, and the reason that we're here in Malaysia at all.
After lunch, and a bit more free time, we all met up on the beach for some games which were run for us by the resort staff. I joined the Pink team, and Caroline was Red. The games were incredibly silly, but great fun.
Hat, Sarong and Ball*
This was where each team member had to take it in turns to don a sarong and hat, and then carry a football between their knees to the other end of the games area and back again.
Pink came first, Red came second
Run Around Your Finger*
A variation of a drinking game where each team member had to put their dfinger in the sand, and then run in a circle 10 times.
Pink came first, Red didn't.
A Banana Feet*
This was where each team member had to take it in turns to run to the other end of the games area and open a very unripe banana with their feet.
Neither Red nor Pink want to talk about this one
Tug Of War
As the name suggests. Six teams played 3 knockout matches. Obviously, you can't have a final with three team, so there was a game of Quartz, Parchment, Shears to decide who went straight through to the final, with the other two teams in a play-off to decide the other finalist.
Pink came first, Red got knocked out in the first stage
(* denotes where I made up the name of the game!)
Now, where it comes to the Tug Of War, yes the Pink team won, but not without controversy. During the final match between the Pink and Blue, Pink made a decision to swap one player half way through the match. Then another… and then one more. Blues took severe exception to that decision and complained to the referee. The referee and marshalls considered the complaint and ruled that the Pink team should sacrifice one player. No, not literally. So the match was restarted with Pink team having one man down. Unsurprisingly, Pink lost that match.
However, Pink had the highest number of points over the 4 games and thus won overall! Our prize was a box of Malaysian chocolates, with some very interesting centres!
Back to the room situation for a moment, we'd been back to our room a couple of times during the course of the day. Guest Services had moved the bed away from the wall, showing the true extent of the damp… the carpet was absolutely sodden, and the room smelled strongly of damp/mildew when you entered it. On the last occasion entering our room before going back out for dinner, I noticed that Guest Services had slid a note under our door saying that they'd been trying to get hold of me, and could I contact Guest Services as soon as possible. So I called them and got put through to a really nice lass called Selena. She explained the situtation that the apartment above the one next door to us had a burst pipe in the room. They were already aware of the burst pipe and had closed off the room next door. They hadn't, however, anticipated that the water would breach into our room. She apologised profusely and offered to move us to another room which they had already prepared for us. Well, as we were on our way out to a planned dinner, we said we'd call them when we got back.
Dinner this evening was a barbeque on the beach… but not the image that your mind has just conjured up. Gas lamps around the dining area, ornately set tables with covered chairs, buffet stations on two sides of the dining area, and a bar on the other. It was like a posh meal, but on the beach! There was also a bonfire set up, towards the sea but quite a distance from us. I must admit that I was just a little disappointed by the bonfire. Don't get me wrong, I wasn't expecting something of the magnitude of The Wicker Man, but it just seemed like about 20 thick branches, joined at the top. Maybe it's just me?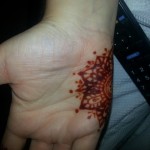 We had a really nice chat with three other couples during this meal. It was really good (and quite useful, actually) to find out about the other areas of the business that these guys are from. We didn't talk shop though. Much. We didn't stay late, as we had to get back to change rooms, but Caroline did visit the henna tattooist as we were leaving… a beautiful ornate design.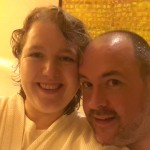 So, back to the room, we called Guest Services. From the time I made that call, to us being totally transferred to the new room and unpacked, took no more than 10 minutes. So we fired up the hot tub and soaked for a hour or so before video calling the kids back in the UK.
I'm sure that I said at the top of this post that today was a day of rest. Heh.
(Day 4 will be journalled by Caroline because a) to give me a break, b) it was my birthday, and c) I'm going to try and journal Day 5 tomorrow!)