Today's post written by Caroline
Today involved an early start. We headed for breakfast early and enjoyed another high quality breakfast, we met with the others on the lawn behind the main entrance to get into teams for the day ahead.
We were assigned to the RED team and were pleased to see a few people we recognised from previous days, plus a few others we hadn't yet spoken to. Once in our teams we were given a bit of a briefing of what to expect and we did a bit of a team bonding exercise to break the ice. Now I should probably point out just now that the information we received was:
"You might want to take some swimwear as you may get wet and flipflops were not suitable footwear"
Then the chap doing the briefing pointed out that we will get wet and that he hoped we had a change of clothes, well we had our swim stuff, but only one pair of shoes and there wasn't anytime to go get them.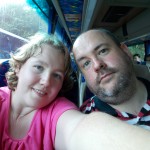 Our coach had our team (Red) and another team (Green) and our coach guide was brilliant, giving us some history of Sabah and borneo and information on the tribes and mount kinabalu. The roads were a little scary in places, imagine a narrow road with a drop at one side, then imagine half of that road had disappeared leaving a small sliver of road and then driving a coach over it! Also some of the hills seemed to be such an effort for the coach, we had wondered if we'd need to get out and push.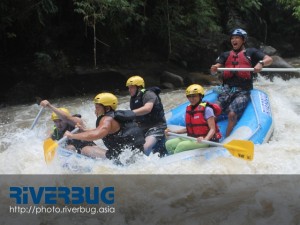 We found out that we were doing white water rafting first and arriving at the starting point we were introduced to staff from 'Riverbug' the company doing the white water rafting. Sadly we were advised to keep our cameras on the coach because they would get too wet during the rafting, so this isn't an action shot, just a shot of the company doing our rafting with us.
Changing into our swimwear was interesting, the 'toilets' were a little, flooded and not somewhere we'd want to be in for a long time. Once we were kitted up and had the saftey talk, each team were provided with a sheet of 'challenges'. Three of our team had to cross a suspense bridge and I was one of those three, for someone who hates heights, it was an experience. When I got back the rest of my team were already in the raft and any hopes I had of keeping my trainers were dashed when the first thing I did was step into the water!
The white water rafting was great fun, the route we took was only a Grade I and II so there weren't any strong rapids. We had some challenges such as turning the boat 3 times one way, then the other, we had to all stand in the raft for 30 seconds and go backwards at some point. All of which seemed fine, our boat guide, Edward, was amazing, he was very funny and chatty and a bit crazy, every so often you'd hear a splash and he'd disappear into the water before getting back in.
One challenge was a big challenge for me in particular, we got points for every member who got into the river and body boarded for a while, I was going to wuss out, but after Dave did it (in an amazing fashion!) I decided to go for it, but I didn't stay in for long.
All told the rafting lasted about 90 minutes or so and it was really great, a real pleasure to be part of, when we disembarked we did our best to dry off, unfortunately, drying off consisted of dry pants, bra and trousers, but wet t-shirt and trainers for me and Dave just didn't even bother changing. We had an amazing lunch and chatte with others before being rounded up for some 'games' having to try and solve a puzzle, walk on stilts etc.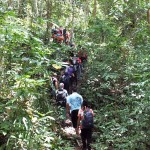 Then our team was told to grab a bottle as we were Jungle Trekking (Unable to take photos so here is an image we found on google for trekking by the Kiulu River). Before I continue I should probably point out that during lunch the heavens opened and it absolutely poured it down with rain, so we were all sat there, eating and slowly digesting the fact that we were about to go in the jungle after a downpour and we were going to get rather muddy! Now again we were advised not to take our bags for safety so we couldn't take photos, but we jungle trekked on the Kiulu River with a guide. It seems after talking to other groups, there were several routes and the route we took saw us heading left from our base and crossing a suspension bridge before walking through thick undergrowth, there was a reasonably defined path in places and we did pass a few houses, it seems a lot of the paths we were taking were used by people who were 'tapping' the rubber trees. At first aside from being a bit muddy the paths were okay, but soon after our first task we found the path to be a bit steeper and then we got to a really steep part which was very difficult, the path was slippy, our shoes were slippy and it was really quite challenging, added to the fact that being a complete idiot I left my inhaler in the bag, which I wasn't allowed to bring on the trek and I started to struggle, the one good thing was our group had a real sense of camaradre and we all looked after each other. Finally we reached a high point and some of the group used a blowpipe to fire at a target, Dave was particularly good at this and got two bullseyes. After we had done that our guide told us we were going back down, now our group, which had struggled up a slippy steep path were not amused by this!
As we begun our descent we were pleased to see that it was a slightly different path, our guide, who was pretty fast lost some of us and we had to shout for him to find out which way to go, we found the others and they were watching another team doing a 'spiders web' challenge, it looked liked they would be a little while yet and in all honesty, we were all pretty shattered, not only was it hot, we were tired, achy and we were in mosquito central. We voted as a group not to do that challenge and just carry on. This is were the real fun started, if we thought climbing up was slippy, that was nothing compared to going down, we litereally skidded down the path was just sludge. I'd already fallen two of three times and were past caring, I heard Dave going down with a bump, but he assured me he was okay, a few others all fell too, but finally we were at a suspension bridge, ready to cross back over the river and get back to the main area.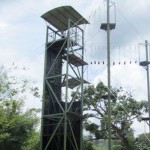 A much needed drink was had and we all got kitted up for zip lining, now for me personally, this was what had me nervous, but having been through what we had done today, there was no way I was not going to do it!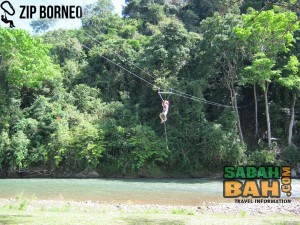 First there was the climb, which was suprisingly hard (for me), it wasn't the most stable of stairs and it was pretty high up and my feet didn't want to work, infact I had only just reached the top before Dave joined me and we had to space out our ascent between people who had ziplined ahead of us. At the top they were very safety conscious, they put a clip onto my back at the harness whilst getting the rest ready, having set me up and clipped everything in place they got me to sit down in the harness and then I had to do the really hard part, I had to lift my feet up so that zip line would start, at first it was scary, but have to admit that even for me, who is afraid of heights it was exhilirating. It's just as well really, because after doing the first bigger zipline, we had to do another shorter one to get back aross the river.
All in all it was an amazing day, we were wet, muddy, achy and tired, but we were also bloody proud to have done it. A real sense of achievement and it was really good to bond with the other team members.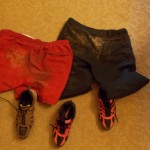 Arriving back at the hotel, we headed to our hotel room and peeled off our clothes and took a much needed shower, the fact we couldn't take photos today was a bummer, but I understood the reasons why. We did take a photo of the aftermath though, to at least prove we got rather muddy.
We had quite a tight turnaround to get to our restaurant, but we needed to nip to the hotel lobby to let them now that the little bill we were left with for the mini bar beer wasn't us (we'd been switched rooms due to a leak affecting our orignal room). They amended the bill and mentioned that we were to be sent a bottle of wine to apologise for our inconvenience and was told it would be there by time we got back.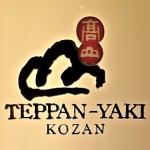 We had booked in to Kozan Teppin Yaki restaurant, which is really quite cool, the chefs have live cooking stations, each can serve approximately 8 diners and our young server was a really cheerful chap, he clearly loved what he did.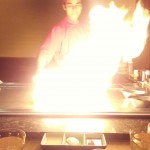 Dave ordered the normal set menu and I ordered the fish set menu, we both got brought the same starter … A Beef stew! I reitereated the fact I didn't eat meat and the returned with some endame beans instead. The food was brilliant, very well made, tasty and well presented, but the truly special part of it was the showmanship from the chef. He really entertained us with his skills and seemed to have great fun doing it. There's a special video at the end of this post.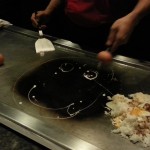 After a very enjoyable meal with some good company, not just our chef but those sat at our station (an Australian gentleman and a young America couple) we returned for a really well deserved (and needed!) soak in the hot tub. It was soon time to rest, because we have another early start tomorrow for the Mari Mari cultural village, which Dave is writing about.
Special Video featuring our Teppan-yaki chef, Malius