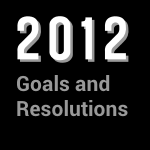 So, following on from my previous post (and thank you to everyone who offered feedback), here is my obligatory 2012 post with… du-du-duuuhhhh… my goals and resolutions for the year.
Goals
I have set myself a number of realistic goals for this year, which I am fully motivated to achieve, with the help of my friends and family.
Weight
I will reach my interim target weight of 15st by the end of 2012. This is a SMART target. I have employed the use of an activity tracker to assist in the achievement of this goal.
Photography
Despite me saying that I wasn't going to renew my membership of blipfoto this year, I backtracked on that decision about 3 hours before my previous membership expired. The goal here is to post one photo every day for the whole of 2012. You can plot my progress at my blipfoto journal.
Bloggage
What you're seeing here is the start of my attempt to post one blog post per week for the whole of 2012. Is that SMART? Yes it is, because I'm certain I have more than 52 blog posts in me.
Resolutions
Alongside the specific goals I have set above, there are a number of resolutions (i.e. goals that are not specifically quantifiable)
Holiday
It's been a fairly long time (probably since before we had the kids) that we've been away on a proper holiday. This year, this will change.
Podcasting
In March of this year, The Bugcast will celebrate both 4 years and 200 episodes. In that time, there has been very little growth in the show as a whole, and everything has been very stable and consistent. A number of people have, in the last few years, offered some fantastic advice in how we could improve the show, but – and I'm being brutally honest here – very little has been actioned or implemented. I intend to change this over the next few months. I will do another post in the next few days over at thebugcast.org to cover this off.
I haven't listed the obvious ones, like being a better dad and husband, and fighting for world peace… those are a given.