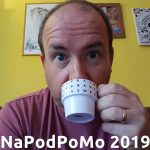 As the sun sets on the NaPodPoMo challenge for 2019, I talk about my new 3D printer and the fun and weirdness that it has presented me with so far.
Things mentioned
My last episode of this year's NaPodPoMo challenge
My 3D printer arrived yesterday

"do not use in the uk"
problems with one of the transports after powering-up
managed to solve the problem myself
currently printing a cat, I'll post a new episode soon so that you can see the final product

Dave's Big Slurp will definitely happen, probably in the new year
Keep in touch with me – contact details
Thanks
I would like to take this opportunity to thank everyone who joined me on the journey through this audio challenge for November. If you're reading this, I probably mean you. To everyone who listened, read, responded, interacted… I'm incredibly grateful. Thank you.