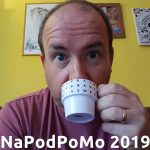 In my longest episode for this month's NaPodPoMo challenge, I talk about US national events around this time, the concept of getting away from work whilst in work, and go on a bit about flexible working.
Things mentioned
Social breakaways at work

Playing pool in the afternoon
Doing the BBC's Quiz of the Week over a video conference

Company expectation of you during the working day

Flexible working
Agile working environments
The importance of non-work time during a working day
Getting away from your desk, not working through your breaks
Self-managing teams, freedom of work schedule as long as the work gets done
Taking breaks when it's appropriate, not at fixed times

I don't think I could go back to a fixed hours, fixed breaks work environment now
Call to action
Let me know what social breakaways you have at work? What do you do, either as a team or an individual, to escape from the workplace whilst in the workplace?