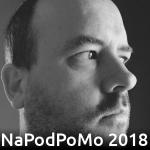 In today's episode: Major panic with yesterday's recording, travelling into Nottingham, and a question about delivery sizes.
Major recording panic yesterday
Luxafor Flag
My first Christmas meal last night
Mango
Question from Jonathan:
"Have you ever bought something online only to be surprised by its size on delivery?"
Thanks to Rich and Jonathan for their feedback on yesterday's show, despite me not posting the episode to social media at all yesterday!
Please support our 24 Hour Pool Marathon next Thursday!
Please come and join us tonight for the live recording of The Bugcast at 21:30 UK time (GMT) over at thebugcast.org/live!
Please join me tomorrow, if you can.
Find more details here: