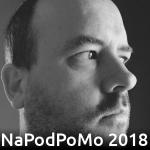 In today's episode: Jonathan asks me a question about my coffee preferences, and I ask you a question about the future of this podcast.
Last night, I recorded a couple of interviews with Jonathan and Al for upcoming interviews, keep an ear out for those!
Question from Jonathan:
"How do you have your coffee? *sssshhhrrrrrrrlllluuurrrrpp*"
Nespresso
Bravilor Bonamat
PÅTÅR, coffee from IKEA
What should I call my personal brand podcast going forward?
Thanks to Jonathan for his cheeky audio feedback. Thanks also to Peter, Clark, Chris, Mikael, Al… for also interacting with me over the last couple of days.
Please join me tomorrow, if you can.
Find more details here: